おもしろ体験博物館
江戸民具街道の展示品紹介
Japanese Folk Art Museum
What you can see at Edo Mingu Kaido

Home >展示品紹介(Exhibits) >火鉢・鉄瓶(Braizer & Iron kettle)
1.火の道具 Heating and lighting appliances using the fire
火鉢と鉄瓶
Hibachi braziers and iron Kettles
 戦前まで日本人の家庭には火鉢があり五徳を置き鉄瓶を載せて炭でお湯を沸かしていました。近くには急須と茶碗が置いてあり、客人にお茶を入れて出すのが習慣でした。これは今では電気ポットに置き換わっていますが、お茶を出すのは今でも日本人の習慣として残っています。鉄瓶は江戸中期の煎茶の伝来とともに、今まで抹茶用に使われていた茶釜ではなく、小型で注ぎ口と取ってが付いた鉄瓶が普及します。鉄瓶には様々な大きさ・形状がありますが、職人技術により制作された美術品ともいえるような鉄瓶もあります。

The Japanese fixed a gotoku metal tripod in a hibachi brazier and put an iron kettle on it before World War II. Teapots, cups and strainers were readied near the brazier and the family used boiled water from the kettle to serve tea to guests. Iron kettles were now replaced with the electric pots though the custom of serving tea to guests still remains.
Iron kettle with a spout for pouring water and a handle was invented in the middle of the Edo Period when the style of sencha (enjoying tea drinking with a light heart) was introduced and promptly adopted by men of culture, which left the tea ceremony to feudal lords and wealthy merchants. Tea kettles come in various sizes and shapes; some are simply designed and some are gorgeously decorated. The latter one could have been used by wealthy merchants; they are works of art.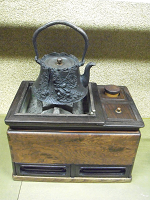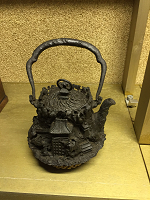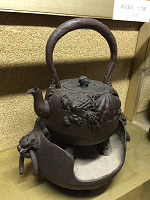 <<<Previous前の展示品ページ Next次の展示品ページ>>>

おもしろ体験博物館江戸民具街道
神奈川県足柄上群中井町久所418
0465-81-5339
Japanese Folk Art Museum "Edo Mingu Kaido"
Address: 418 Kuzo, Nakai-machi, Ashigara-kamigun, Kanagawa-ken, Japan
Tel: 0465-81-5339